Seasonality typically affects inventory levels, buyer demand and median home prices, often in very significant ways – as is illustrated in the following charts. However, it is not the only factor affecting market conditions and trends – general economic conditions and financial market movements, new construction projects coming on market, significant changes in interest rates, local stock market IPOs, natural and political events, and other factors can and do impact the market as well, sometimes quite suddenly.
It is also worth noting that new listings and new sales occur every month of the year – and sometimes, depending on prevailing market conditions and the specific property, buying or selling during the slower periods of the year can be the smart strategy. For buyers in particular, though the supply of active listings is somewhat lower during mid-late summer and mid-winter market slowdowns, and the number of new listings dwindles, the competition for homes is much lower as well. There are many more price reductions and increased seller willingness to negotiate list prices. The result is that buyers can sometimes make the best deals during these periods: Many of the charts below illustrate this opportunity.
Because of the significant summer and winter slowdowns, it is difficult to come to definitive conclusions about the condition and direction of the market during July/August, and December/January. One really has to wait for the autumn market to begin in mid-September with the typical surge of new listings, or the spring market to begin in late February/ early March to get a sense of where the market may be heading next.
The devil's always in the details, and the details of the market change constantly. Still, there is a typical and dramatic ebb and flow to the level of activity in the market that correlate with seasonality, and that is what this report explores from a variety of angles.
Without inventory and buyers wanting to purchase, there is no market. These first charts show the classic effects of seasonality on supply and demand.
Inventory
Buyer Demand, Price Reductions & Overbidding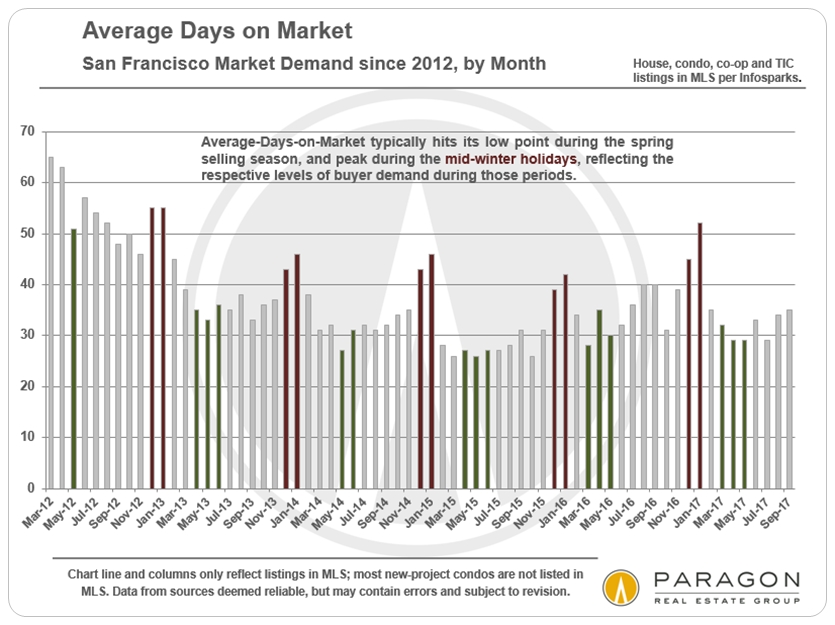 For the last few years, spring has been the season of the greatest market frenzy, which shows up in Sales Price to Original List Price ratio (a good measurement of the competitiveness of the market), and the percentage of listings selling for over final list price..
As seen in these next charts, the higher-price end of the market is usually much more affected by seasonality that the general market. Among other effects, this will usually raise the median sales price during the peak spring and autumn selling periods, and lower them in the slower periods of summer and mid-winter.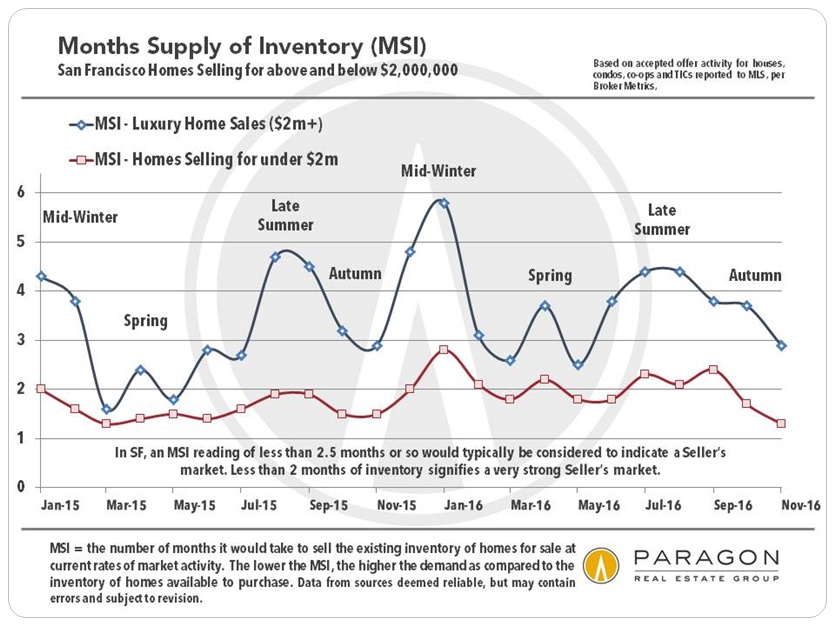 These final 2 charts illustrate both the rapidly appreciating real estate market since 2012 and the shorter term ups and downs that seasonality can play in median home prices – which sometimes have little to do with changes in fair market value. The Case-Shiller Index chart attempts to track changes in fair market value, and the effect of seasonality is dramatically illustrated. Of course, in an appreciating or depreciating market, there are usually other factors impacting median sales prices beside seasonality – as always, what is most meaningful is the longer term trend in home prices, not short-term fluctuations.
Fluctuations in median sales prices are not unusual and these fluctuations can occur for other reasons besides changes in value, such as seasonality; inventory available to purchase; availability of financing; changes in buyer profile; and changes in the distressed and luxury segments. How these statistics apply to any particular property is unknown without a specific comparative market analysis. All data from sources deemed reliable, but may contain errors and is subject to revision.
© 2017 Paragon Real Estate Group